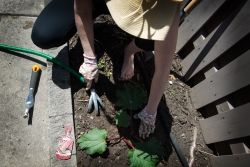 Talking about the idea with others was when the seed found dirt (beautiful dirt that is) that would actually give it a chance to begin to grow.
"As I shared my need and desire for a place like Wehl, many people identified their own desire for a wellness social community and expressed that this idea could actually become a reality."
Many awesome, talented people have come along to believe Wehl was possible and help build the platform from the ground up. Together, as a team and as a community, we've worked hard to design a healthy social platform that promotes wellness through design, features, content and, most of all, a healthy culture and cooperative community.
Our journey building Wehl has been much like our own personal wellness journeys – full of highs and lows, challenges, risks, failures, opportunities, joy and excitement. And, cheesy as it may sound, it really has been social support that has helped us push through and stay laser-focused on achieving our mission. It's been about plenty of faith and positivity and taking imperfect baby steps forward. We've learned to give ourselves permission to be different and go down this road at our own pace.